Post by Murray on Jul 4, 2011 0:41:42 GMT -5
My troll Xcvius: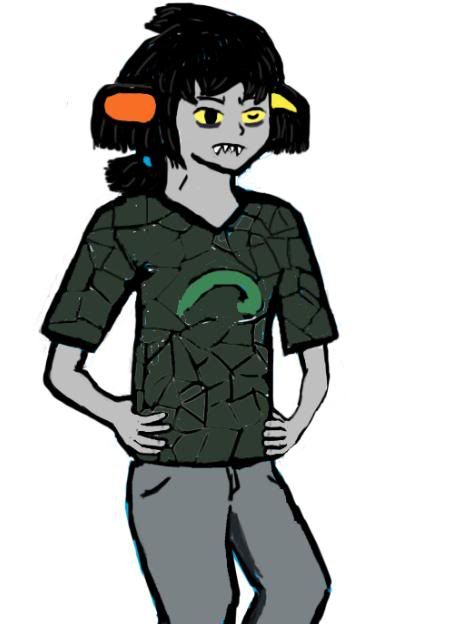 This one is unfinished.
He's a Klepto with OCD, as a green blood, he's a relatively nice troll, but he has some nasty tendencies. He would be more likely to auspistise than to be auspistised, and his Kismetic relationships would be between people who are difficult to steal from and have short tempers. He tends to annoy people with his wanton stealing, which often makes Red-rom difficult, however, if someone were to make him their partner in crime (i.e. the idiot who was tricked into collecting parts to a doomsday device), he would probably form a strong Matespritship with them.
Hobbies: Theft (of all kinds, including intellectual), His Religion/Cult: The Church of Fluthlu (from which he was dishonorably discharged) and looking after the wildlife.
Blood: Green
Strife Specibus: Sack-kind.
Fetch Modus: Pincer's Modus
Handle: wildlifeRenter
Lusus: A giant Ant-lion creature that tunnels way across the land, but not low enough to interfere with the underground caverns of the trials and wrigglers.
Hive: A circular hive that circles a hole in which his lusus lives. It's a two story hive, though only the top-half is inhabitable, as Xcvius uses the bottom half to store his gear.
Notes: His shirt is stitched together from multiple tearings that he stole from other people's shirts. He has a tendency to never use the objects he steals for their intended purposes. One time, he found an appearifier, and was almost culled after the ensuing incident, neither he, nor those involved, are allowed to mention it again. He has no thumb-prints.
Psychic Abilities: Mind Sync. By tying up his hair into a pony tail, and by doing the same to a partner (or, in some cases, just stabbing any elongated object into the back of their neck), he can sync up his thoughts and movements with that person.
In the story he was originally from, he had the title "Scapegoat of Skill", which granted him the power to steal the abilities of others, but at significant expenses. His character was of little importance, as he spent most of his time coming up with insane plans to somehow 'steal leadership' from other characters.
You would be wise to not trust Xcvius, as he may later decide that he was never actually on your side (retroactively, as the case usually is).